With over a decade of experience, Essex Aquatics specialises in bespoke koi pond building in Essex. 
Koi ponds bring an eco-system pond that requires very little maintenance. We can build a variety of different koi ponds allowing you to draw on your garden's current landscape or your future vision.
We treat every koi pond construction project individually to ensure we create the perfect koi pond for every garden's specific needs. Our koi pond construction process consists of design, installation and maintenance, so we are here to support your vision every step of the way.
As part of our koi pond design and build services, we also supply and work with:
Rubberised pond liners
Custom bespoke pond liners
Pond paint
Fibre glassing
As approved contractors specialising in Firestone and rubber lining, Essex Aquatics is equipped to offer a range of material options for your koi pond. We are also registered suppliers for Oases, enabling us to provide a variety of choices that cater to your budget and specific pond requirements. Our expertise and partnerships ensure that you receive high-quality materials and supplies tailored to your project.
We also offer koi pond repair services, ensuring that any issues with your pond are expertly addressed to maintain its beauty and functionality.
Contact Essex Aquatics for a professional consultation and quote, and let us transform your garden with a custom koi pond.
David Greest
1 October 2023
We booked Essex Aquatics to undertake the total renovation of our ponds which had a major leak. The project was made more difficult by the need to protect surrounding trees and shrubs and the removal and replacement of tons of slate rock. The final result was awesome. The ponds have never looked better. Excellent job Elliot and team.
Michail Sergentanis
20 September 2023
Elliot and team arrived promptly and did a great job cleaning out our fish pond. Highly recommended
Michael Helston
2 August 2023
I can thoroughly recommend Essex Aquatics. Elliot (and Cam and Matt) were responsive and polite and carried out the work with no fuss. Yes it was a mess but they cleared up everything. There were extra jobs thrown up by the pond construction which they carried out willingly and at no extra cost. I'm very happy with the pond and will certainly continue to contact Elliot when any maintenance is required. Thanks all round.
Elliott was very accessible. Answered my myriad of questions ,& provided me with quote to remove my pond ,& fill. A date was given to suit me ,& Elliott & colleague arrived promptly. Their work was expertly performed ,& went over ,& above by removing my back gate to enable barrow through. End result was better than I had hoped for. Clean tidy workers. My fishes have been re homed,& price was as quoted. Thoroughly recommend.
Elliot and team arrived promptly and did a great job cleaning out our fish pond. Highly recommended,
Goronwy Roberts
29 May 2023
Excellent work by Elliot to clean and clear our very overgrown and neglected garden pond.Delighted with the result and happy to recommend Essex Aquatics
Essex Aquatics got back to me very quickly with an extremely reasonable quote. In the short time between then and coming to do the job I had additional problems which were dealt with efficiently and at a reasonable cost. Very friendly and I have absolutely no hesitation in recommending them for pond maintenance.
EXperienced Koi Pond Builders in Essex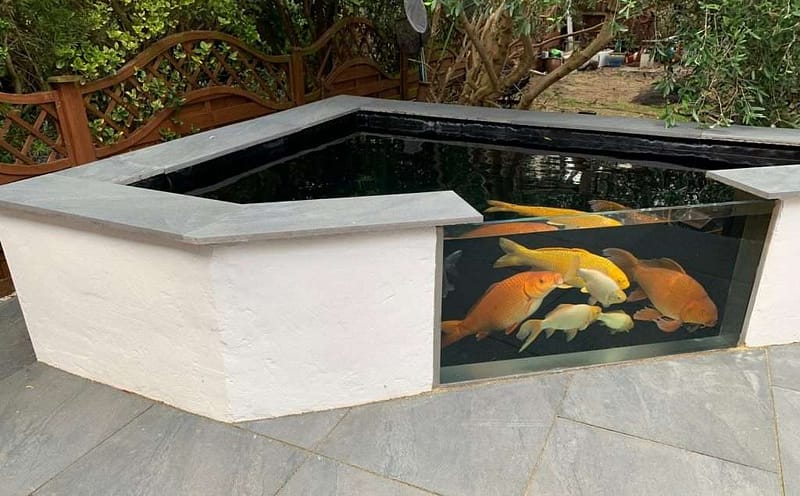 Koi pond windows allow you to appreciate the beauty of your Japanese koi fish throughout the year. As part of your koi pond's design process, we can include a koi pond window that ensures a stunning view of your fish and adds a unique feature to your garden.

At Essex Aquatics, we understand the importance of effective filtration for the health and aesthetics of your koi pond. Our expertise allows us to recommend and install the best filtration systems tailored to your pond's needs.
Our preferred method involves using a bottom drain, which forms the foundation of a complete filtration system. This system can include various components, from UV units to pond heaters. We also use gravel filters/wetland filters, which can be a natural and effective solution to filtering your custom koi pond. These systems are commonly used in natural swimming ponds, allowing the water to filtrate naturally.
Our knowledgeable team chooses each element to ensure optimal water quality and clarity for your koi pond. All our designs allow for straightforward pond maintenance and adjustments to your project, providing an efficient and user-friendly system.
Professional Koi Pond Builders
At Essex Aquatics, we offer a professional Koi pond building service and expert advice from our team to bring your vision to life.
Contact us today for a free consultation to discuss your ideas and how we can support you.