We specialise in constructing and maintaining large natural ponds and ornamental lakes for a wide range of clients, including local councils, schools, businesses, estates, parks, golf courses, and private properties.
Our services are backed by university level education in aquaculture and freshwater fisheries management, ensuring a professional finish to your natural pond and an eco-friendly and healthy environment for all livestock, wildlife and plants. And with years of experience as pond builders in Essex, our knowledge of aquatic plants guarantees colourful and full plants all year round.
Whether you've inherited a natural pond and you're looking to bring it back to life, or you're hoping to add one to your grounds to create a picturesque and calming landscape, we have the expertise and equipment to suit your needs. 
David Greest
1 October 2023
We booked Essex Aquatics to undertake the total renovation of our ponds which had a major leak. The project was made more difficult by the need to protect surrounding trees and shrubs and the removal and replacement of tons of slate rock. The final result was awesome. The ponds have never looked better. Excellent job Elliot and team.
Michail Sergentanis
20 September 2023
Elliot and team arrived promptly and did a great job cleaning out our fish pond. Highly recommended
Michael Helston
2 August 2023
I can thoroughly recommend Essex Aquatics. Elliot (and Cam and Matt) were responsive and polite and carried out the work with no fuss. Yes it was a mess but they cleared up everything. There were extra jobs thrown up by the pond construction which they carried out willingly and at no extra cost. I'm very happy with the pond and will certainly continue to contact Elliot when any maintenance is required. Thanks all round.
Elliott was very accessible. Answered my myriad of questions ,& provided me with quote to remove my pond ,& fill. A date was given to suit me ,& Elliott & colleague arrived promptly. Their work was expertly performed ,& went over ,& above by removing my back gate to enable barrow through. End result was better than I had hoped for. Clean tidy workers. My fishes have been re homed,& price was as quoted. Thoroughly recommend.
Elliot and team arrived promptly and did a great job cleaning out our fish pond. Highly recommended,
Goronwy Roberts
29 May 2023
Excellent work by Elliot to clean and clear our very overgrown and neglected garden pond.Delighted with the result and happy to recommend Essex Aquatics
Essex Aquatics got back to me very quickly with an extremely reasonable quote. In the short time between then and coming to do the job I had additional problems which were dealt with efficiently and at a reasonable cost. Very friendly and I have absolutely no hesitation in recommending them for pond maintenance.
Natural Pond Construction Services
From digging a small fishing pond to a reservoir or lagoon, our job is to support you in the design and build of your natural pond from start to finish. All our projects include careful site preparation, planning and design and filtration systems.
Your natural pond will be designed to suit your requirements and enhance your landscape. As part of the consultation and design process, we can work with you develop planting plans for aquatic and terrestrial plants including trees, shrubs and grassland areas, as well as stocking plans for fish and other aquatic life.
Depending on your requirements, our natural pond building services can also include things such as:
Clay-lined ponds, specialist geo textiles and liners
Plants to maintain a balanced ecosystem
Aeration pump installation
Decorative fountains and water features
Once our initial natural pond construction project has wrapped up, we can support with pond dredging, repairs and other pond maintenance.
Natural Pond Maintenance & Repairs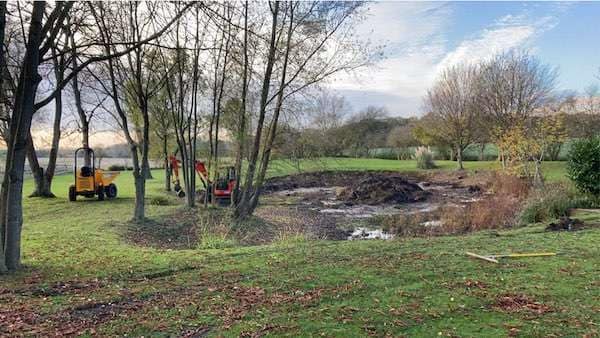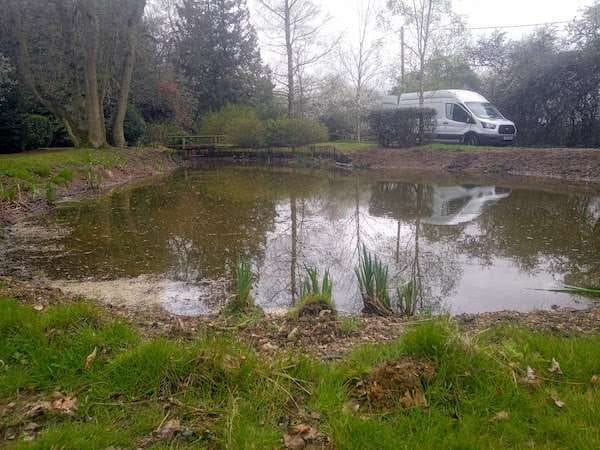 We also provide natural pond maintenance, repairs and cleaning services to support you with maintaining your pond and ensuring a healthy eco-system. 
If not correctly maintained and cleaned, natural ponds can develop:
Smelly and dirty water
Algae and vegetation build up
Reduction in water depth
Due a lack of oxygen from contaminants, these issues can result in the death of fish and other wildlife to live near or in your natural pond.
Natural ponds typically need pond dredging services every 10-20 years to maintain a balanced eco-system. You should also ensure you regularly check your pond lining in case it needs repairs or replacing from wear and tear. 
Professional Natural Pond Builders in Essex
Whether you have inherited a natural pond on your estate or you're looking to build a natural pond to add to the landscape, contact Essex Aquatics today for a free consultation and quote.