Natural Swimming Ponds in Essex
At Essex Aquatics, we specialise in building natural swimming ponds in Essex and London. A natural swimming pond allows you to swim in fresh and clear water without any chemicals right from your home. 
We also offer services for renovating swimming pools or ponds into natural swimming ponds.
David Greest
1 October 2023
We booked Essex Aquatics to undertake the total renovation of our ponds which had a major leak. The project was made more difficult by the need to protect surrounding trees and shrubs and the removal and replacement of tons of slate rock. The final result was awesome. The ponds have never looked better. Excellent job Elliot and team.
Michail Sergentanis
20 September 2023
Elliot and team arrived promptly and did a great job cleaning out our fish pond. Highly recommended
Michael Helston
2 August 2023
I can thoroughly recommend Essex Aquatics. Elliot (and Cam and Matt) were responsive and polite and carried out the work with no fuss. Yes it was a mess but they cleared up everything. There were extra jobs thrown up by the pond construction which they carried out willingly and at no extra cost. I'm very happy with the pond and will certainly continue to contact Elliot when any maintenance is required. Thanks all round.
Elliott was very accessible. Answered my myriad of questions ,& provided me with quote to remove my pond ,& fill. A date was given to suit me ,& Elliott & colleague arrived promptly. Their work was expertly performed ,& went over ,& above by removing my back gate to enable barrow through. End result was better than I had hoped for. Clean tidy workers. My fishes have been re homed,& price was as quoted. Thoroughly recommend.
Elliot and team arrived promptly and did a great job cleaning out our fish pond. Highly recommended,
Goronwy Roberts
29 May 2023
Excellent work by Elliot to clean and clear our very overgrown and neglected garden pond.Delighted with the result and happy to recommend Essex Aquatics
Essex Aquatics got back to me very quickly with an extremely reasonable quote. In the short time between then and coming to do the job I had additional problems which were dealt with efficiently and at a reasonable cost. Very friendly and I have absolutely no hesitation in recommending them for pond maintenance.
What is a natural swimming pool?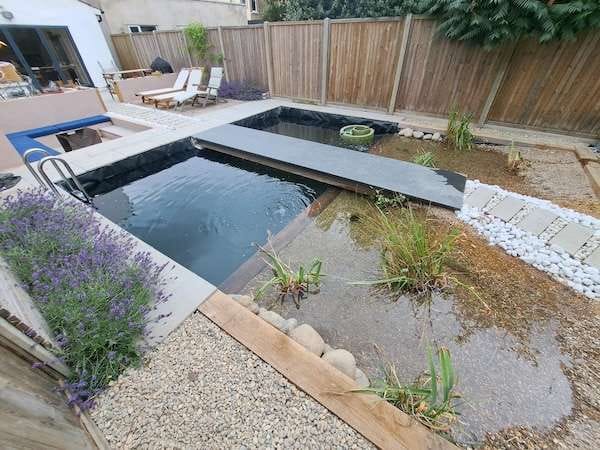 A natural swimming pool in your garden allows you to reconnect with nature whilst maintaining a balanced ecosystem in your garden. Unlike traditional swimming pools, natural swimming ponds contain no toxic chemicals. Making them not only a cleaner environment for you to swim but also safe for wildlife.
Swimming in a natural pond provides many health advantages, such as improving circulation and general cardiovascular well-being. Not only do they come with health advantages, but they're also beautiful ecosystems that attract wildlife into your garden allowing for abundant aquatic plant life. Aquatic plants will naturally filter your pool water, creating a fantastic ecosystem for your natural swimming pond.
Natural swimming pool designs bring a softer landscape, meaning they'll blend more effectively into your garden than a traditional swimming pool. We can use anything from plants to boulders for a natural finish.
Professional Natural Swimming Ponds in Essex
At Essex Aquatics, we use our pond construction experience and biological filtration knowledge to create high-quality natural swimming ponds for our clients. When you work with us, we support you every step of the way, from design to any necessary pond maintenance you may need after the project is complete.
Our natural swimming pond projects have three main stages: design, construction and management. Here's how that process looks:
A free site visit and consultation to discuss your vision, followed by a quote.

We build your natural swimming pond, helping you to bring your ideas to life. 

We implement a full planting service and can add elements such as diving pontoons, jetties and decked areas. We can also work on the landscaping of the surrounding areas to complement your new water feature.

Once your project is complete, we're available for pond cleaning and maintenance services to help you make the most of your natural swimming pond.
Contact us today for a free consultation and quote to discuss how our expert team can support your natural swimming pool ideas.
Frequently Asked Questions