Whether you're looking for small garden pond construction, or to bring a little tranquillity to your garden with a waterfall feature, our team of professionals providing pond builders in Essex can bring your ideas to life.
Having specialised in pond construction in Essex for over 10 years, we have a wide range of experience and knowledge in pond building and construction projects of all shapes and sizes. Our pond building services include pond design, build and maintenance, as well as supplying all necessary materials including pumps and filters to match your pond's design. Our goal is to support you every step of the way. 
Contact us today for a free consultation and quote to see how Essex Aquatics's team of professional pond builders can transform your outside space.
David Greest
1 October 2023
We booked Essex Aquatics to undertake the total renovation of our ponds which had a major leak. The project was made more difficult by the need to protect surrounding trees and shrubs and the removal and replacement of tons of slate rock. The final result was awesome. The ponds have never looked better. Excellent job Elliot and team.
Michail Sergentanis
20 September 2023
Elliot and team arrived promptly and did a great job cleaning out our fish pond. Highly recommended
Michael Helston
2 August 2023
I can thoroughly recommend Essex Aquatics. Elliot (and Cam and Matt) were responsive and polite and carried out the work with no fuss. Yes it was a mess but they cleared up everything. There were extra jobs thrown up by the pond construction which they carried out willingly and at no extra cost. I'm very happy with the pond and will certainly continue to contact Elliot when any maintenance is required. Thanks all round.
Elliott was very accessible. Answered my myriad of questions ,& provided me with quote to remove my pond ,& fill. A date was given to suit me ,& Elliott & colleague arrived promptly. Their work was expertly performed ,& went over ,& above by removing my back gate to enable barrow through. End result was better than I had hoped for. Clean tidy workers. My fishes have been re homed,& price was as quoted. Thoroughly recommend.
Elliot and team arrived promptly and did a great job cleaning out our fish pond. Highly recommended,
Goronwy Roberts
29 May 2023
Excellent work by Elliot to clean and clear our very overgrown and neglected garden pond.Delighted with the result and happy to recommend Essex Aquatics
Essex Aquatics got back to me very quickly with an extremely reasonable quote. In the short time between then and coming to do the job I had additional problems which were dealt with efficiently and at a reasonable cost. Very friendly and I have absolutely no hesitation in recommending them for pond maintenance.
Professional Pond Building in Essex
From small wildlife ponds to estate ponds and natural swimming ponds, our team of pond builders in Essex have worked on many different ponds over the years. Choose from one of the pond design options below to learn more about our pond construction services and which pond style could be the best fit for you and your project.
If you're unsure where a pond would work best in your garden or what pond style to go for, our team of pond experts are happy to inspect your landscape and advise on the best location and style for your requirements.
If you're unsure where a pond would work best in your garden or what pond style to go for, our team of pond experts are happy to inspect your landscape and advise on the best location and style for your requirements.
Garden Ponds
Transform your back garden into a place of tranquillity and bring the essence of nature and wildlife with a garden pond.
Adding a pond to your garden is a great way to introduce different species of plants. The variety of colours, smells and textures from these plants can turn your garden into an oasis for you and your family to enjoy for years to come.
Our garden pond building services also include hard landscaping such as paving, walling and decking. Other options and addons include lighting, waterfalls, bridges, fountains, bog gardens and paths to compliment your pond.
Wildlife Ponds
Wildlife ponds are specially designed to attract a variety of different wildlife, maximise plant growth and sustain a valuable ecosystem with your garden. They are as easy to maintain as possible, using rocks or gravel with a variety of plants to create a healthy and balanced eco-system.
When building your wildlife pond, we will support you from start to finish. Helping you to piece together the perfect design, through to the pond construction and aftercare maintenance.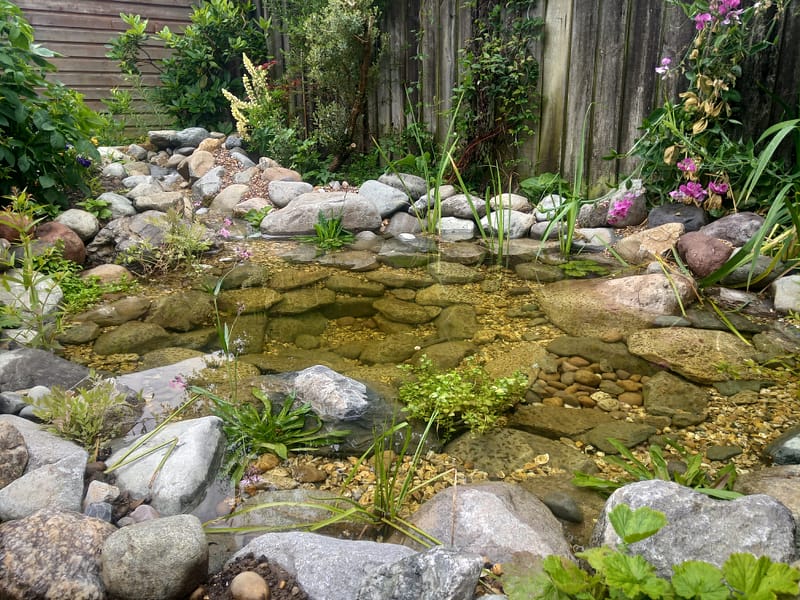 Koi Ponds
If you feel like your garden is missing a "wow" factor, koi ponds add beauty, a splash of colour and a sense of calm to any outdoor space.
We have built a variety of different koi ponds over the years, from sunken ground level ponds to raised koi ponds with windows, depending on what best suits our client's gardens and requirements.
Whether you're interested in a custom koi pond or need supplies or maintenance for your existing one, we've got you covered.
Large Natural Ponds
We build large ornamental lakes and ponds for various sectors and landmarks, from working with the council, local schools and business units, to estates, parks, golf courses, and private properties.
Whether you are looking for a lake in the sports and leisure industry or for commercial or domestic purposes, we have the right expertise and equipment to suit your needs.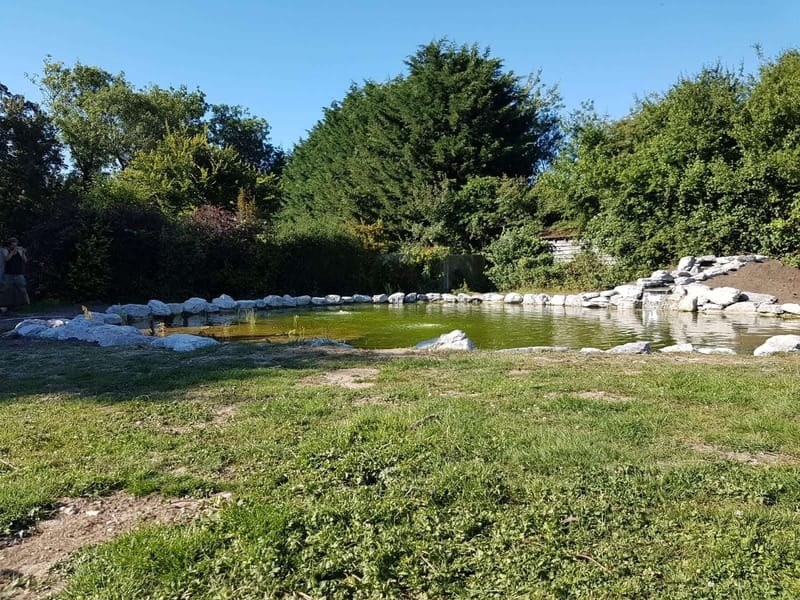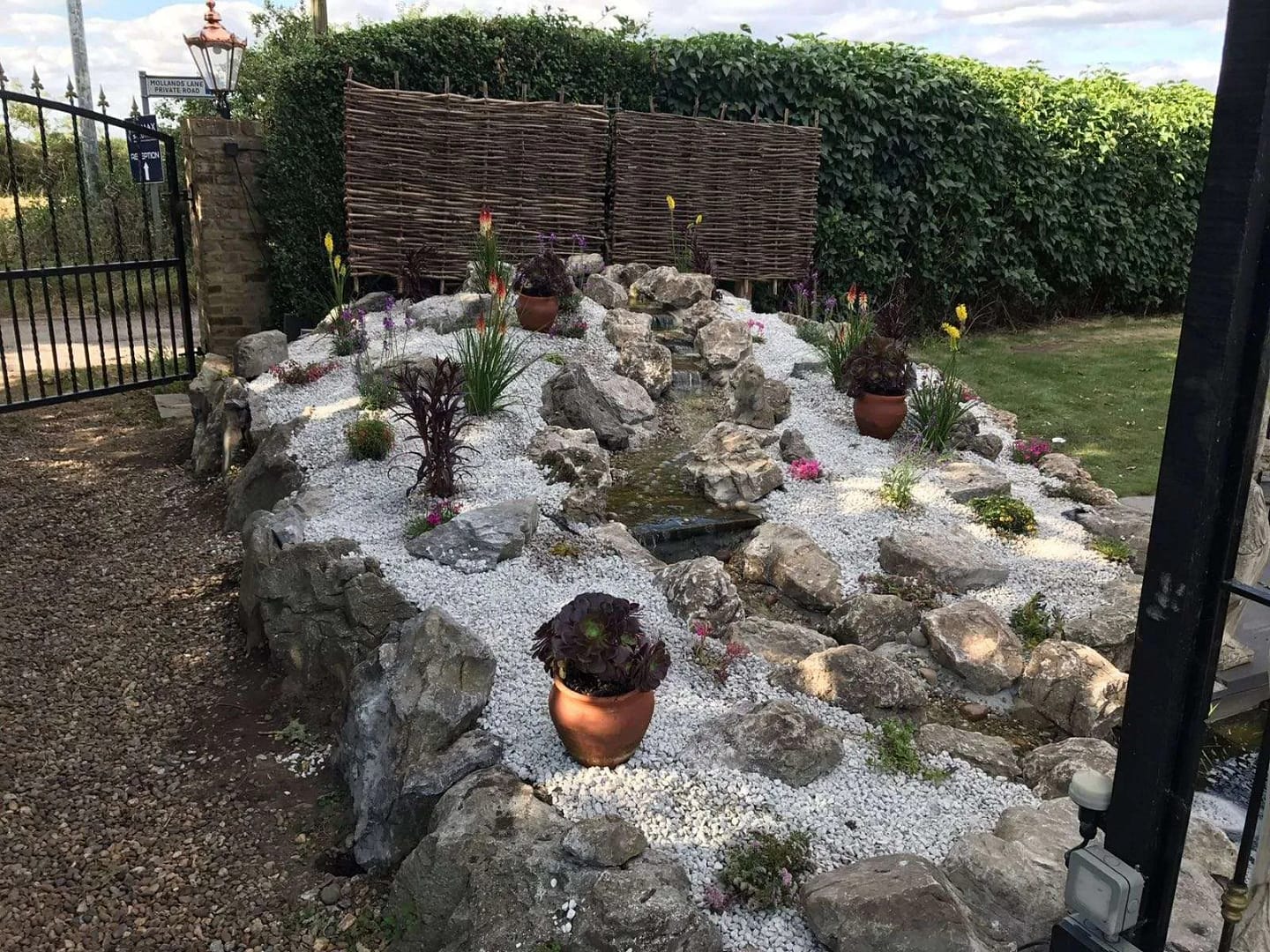 Waterfall Ponds
Waterfalls make a great addition to any pond as they are a low-maintenance feature that instantly enhances your existing pond and outdoor space.
They also serve a practical function by aerating and oxygenating the water, bringing balance back into nature.
With our experience as pond builders in Essex, we can also build them into existing ponds. We also offer pondless waterfall options.
Ponds play a vital part in our ecosystem and they support two-thirds of all freshwater species.
Full Pond Design and Build Services
Our pond design and build services are tailored to suit your garden, landscape, budget, requirements and timescales. 
Every pond construction project starts with an initial consultation where we discuss your ideas, site access and utilities, waterproofing, filtration options, finishing touches and aesthetics.
Following this, we will send a full quotation with design elements, suggested materials and anything else required depending on the project.  We can also provide a complete planting plan, both terrestrial and aquatic, to compliment your pond.
We are firestone and rubber lining approved contractors and a registered dealer for Oase. So we can inspect, advise and supply pumps and filters to match your pond design, ensuring you have the best quality materials for your pond.
We can also install filtration, including traditional box filters, partly submerged pressure filters and bespoke gravel filters.
As your trusted pond builders in Essex, you can rely on us to support you through the entire pond build process, from the initial design of your pond to the build and maintenance.
Your Go-To Pond Builders in Essex
At Essex Aquatics, we are experienced in bringing your dream pond to life and supporting you in finding the best water feature to match your outside space.
Contact us today to discuss your ideas and how we can support you.