For large or natural ponds, Essex Aquatics provide pond dredging services to carry out pond cleaning on a much larger scale. Pond dredging techniques are different from pond cleaning, but the results are the same: crystal-clear water and healthy livestock.
Over time, things like fish waste, decaying leaves, and runoff rain water from the surrounding area can build up. This layer of muck in your pond not only looks unattractive but also affects the water quality and overall health of your pond. With our pond dredging services, we remove accumulated sediment, sludge, and other unwanted materials from the bottom of your pond, leaving you with a clean, healthy pond and livestock.
why is pond dredging important?
If you notice that your pond is starting to smell, that the water is murky, or that your fish are showing signs of stress or disease, it's likely time for a dredge. It's important to keep up with pond dredging for: 
One of the most immediate benefits of pond dredging is improved water quality. The removal of sediment allows for better oxygen levels, which is crucial for fish and plants. 
A clean pond is a healthier home for your fish. Reduced sediment means fewer harmful bacteria and toxins that can stress or even kill your aquatic pets.
Excessive sediment, sludge and other unwanted dirt can smother aquatic plants. Dredging gives them room to grow, which in turn provides more oxygen for your pond.
A dredged pond is more visually pleasing. The water looks cleaner, and you can actually see the fish and plants. Clean pond water also means less algae and fewer odors.
Regular dredging of your pond can extend the life of your pond. It prevents the build-up of materials that can eventually turn your pond into a swamp or dry land.
As we are based in Essex, we're familiar with the local ecosystem and the specific challenges that pond owners in this area face. We prioritise eco-friendly practices, ensuring that your pond isn't just healthier for you but also for the local wildlife.
David Greest
1 October 2023
We booked Essex Aquatics to undertake the total renovation of our ponds which had a major leak. The project was made more difficult by the need to protect surrounding trees and shrubs and the removal and replacement of tons of slate rock. The final result was awesome. The ponds have never looked better. Excellent job Elliot and team.
Michail Sergentanis
20 September 2023
Elliot and team arrived promptly and did a great job cleaning out our fish pond. Highly recommended
Michael Helston
2 August 2023
I can thoroughly recommend Essex Aquatics. Elliot (and Cam and Matt) were responsive and polite and carried out the work with no fuss. Yes it was a mess but they cleared up everything. There were extra jobs thrown up by the pond construction which they carried out willingly and at no extra cost. I'm very happy with the pond and will certainly continue to contact Elliot when any maintenance is required. Thanks all round.
Elliott was very accessible. Answered my myriad of questions ,& provided me with quote to remove my pond ,& fill. A date was given to suit me ,& Elliott & colleague arrived promptly. Their work was expertly performed ,& went over ,& above by removing my back gate to enable barrow through. End result was better than I had hoped for. Clean tidy workers. My fishes have been re homed,& price was as quoted. Thoroughly recommend.
Elliot and team arrived promptly and did a great job cleaning out our fish pond. Highly recommended,
Goronwy Roberts
29 May 2023
Excellent work by Elliot to clean and clear our very overgrown and neglected garden pond.Delighted with the result and happy to recommend Essex Aquatics
Essex Aquatics got back to me very quickly with an extremely reasonable quote. In the short time between then and coming to do the job I had additional problems which were dealt with efficiently and at a reasonable cost. Very friendly and I have absolutely no hesitation in recommending them for pond maintenance.
Our Pond Dredging Process
During your pond dredging consultation, we make a formal site visit to assess your pond's condition, determine access, surface runoff, adjacent land use and water drainage options.
When we arrive to dredge your pond, we secure any fish, wildlife and plants in a temporary pond before we start draining. 
To clean your pond, we use suitable-sized excavator to dredge the silt from your pond. The dredged material can often be used in landscaping or as compost, making the process eco-friendly.
This is also a good time to cut back trees and overgrowing vegetation to minimise this dropping back into your pond later.
Once we have thoroughly cleaned your pond, it can begin to fill naturally before the fish are returned.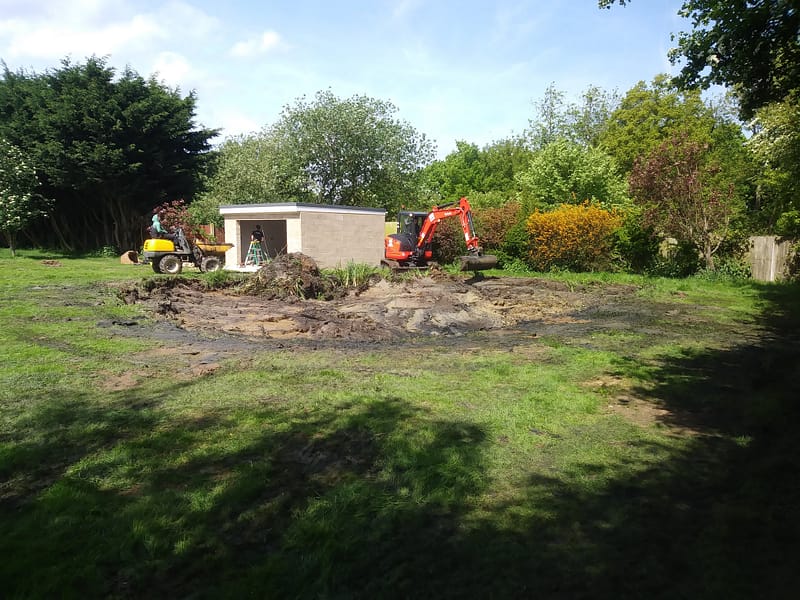 Professional Pond Dredging in Essex
Contact Essex Aquatics for a consultation
For more information on our pond dredging services, contact us today for a free, no-obligation quote.