Pond Maintenance in Essex
Recently inherited a pond needing some TLC? Or looking to reduce your workload and have someone else take care of your pond's regular maintenance? Or maybe your pond plants are out of control, and your fish are looking a little lethargic? Maintaining your pond is essential for ensuring a long lifespan for your pond and all its livestock. 
Whether we are carrying out pond maintenance for you or you do it yourself, we recommend that pond maintenance is carried out on a monthly basis to ensure your pond is in tip top shape.
With over 10 years of experience, we are proud of our work providing professional pond maintenance in Essex. we specialise in pond cleaning, pond maintenance and pond construction, supporting various sectors and landmarks throughout Essex and London, from working with the council, local schools, business units and your back garden. Our team of qualified experts in fish farming and management ensure your pond is kept in the best possible condition for you to enjoy for years to come.
We manage and maintain a variety of different ponds and lakes for the public and commercial sector, including general garden ponds, swimming ponds, koi ponds, natural ponds, large lakes, commercial lakes and more.
From a one-off call out to regular monthly maintenance care plans, our services providing pond maintenance in Essex ensure your pond is kept in tip-top condition. Contact our friendly team to book your no-obligation quote today.
David Greest
1 October 2023
We booked Essex Aquatics to undertake the total renovation of our ponds which had a major leak. The project was made more difficult by the need to protect surrounding trees and shrubs and the removal and replacement of tons of slate rock. The final result was awesome. The ponds have never looked better. Excellent job Elliot and team.
Michail Sergentanis
20 September 2023
Elliot and team arrived promptly and did a great job cleaning out our fish pond. Highly recommended
Michael Helston
2 August 2023
I can thoroughly recommend Essex Aquatics. Elliot (and Cam and Matt) were responsive and polite and carried out the work with no fuss. Yes it was a mess but they cleared up everything. There were extra jobs thrown up by the pond construction which they carried out willingly and at no extra cost. I'm very happy with the pond and will certainly continue to contact Elliot when any maintenance is required. Thanks all round.
Elliott was very accessible. Answered my myriad of questions ,& provided me with quote to remove my pond ,& fill. A date was given to suit me ,& Elliott & colleague arrived promptly. Their work was expertly performed ,& went over ,& above by removing my back gate to enable barrow through. End result was better than I had hoped for. Clean tidy workers. My fishes have been re homed,& price was as quoted. Thoroughly recommend.
Elliot and team arrived promptly and did a great job cleaning out our fish pond. Highly recommended,
Goronwy Roberts
29 May 2023
Excellent work by Elliot to clean and clear our very overgrown and neglected garden pond.Delighted with the result and happy to recommend Essex Aquatics
Essex Aquatics got back to me very quickly with an extremely reasonable quote. In the short time between then and coming to do the job I had additional problems which were dealt with efficiently and at a reasonable cost. Very friendly and I have absolutely no hesitation in recommending them for pond maintenance.
Benefits of Pond Maintenance
Taking care of your pond is more than just a chore. It's a way to ensure that your outdoor space stays beautiful and healthy. Regular pond maintenance offers a range of benefits that go beyond just clear water, including:
When water quality is good, fish are less likely to get sick, saving you money on fish care products and the stress of losing them.

Regular cleaning helps keep your pond water water clear, which is better for fish, plants and any wildlife your pond attracts. And it looks better!

Algae can quickly take over a pond if it's not well-maintained. Regular maintenance helps control algae growth, keeping it from becoming a problem.

Filters, pumps, and other pond equipment last longer when they're kept clean, saving you money in the long run.

A clean pond is better for the environment and it's less likely to attract pests.
With our professional pond maintenance services, you can be sure that your pond is clean and well-maintained, making your pond a place of relaxation rather than a source of stress.
"The pond had not been serviced for some time and was very dirty with a blocked filter, Elliot and his team did a great job, and left my pond looking clear and running properly again, enabling me to see all my fish. I have now booked a regular maintenance service with Essex Aquatics and would highly recommend them" 
– Sandra Owen
Our Pond Maintenance Process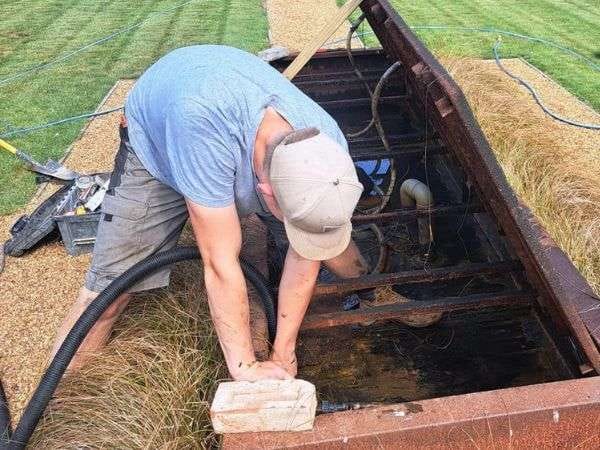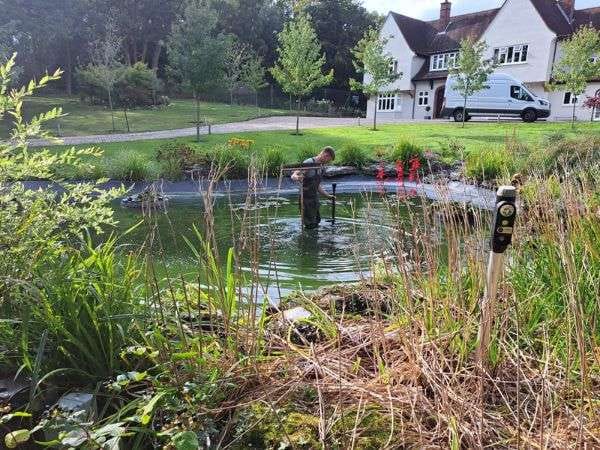 When carrying out pond maintenance, we typically do the following:
Clean the filters
Vacuum the pond bottom (depending on the depth of the pond)
Trimming back any overgrown plants
Cleaning out the pond pumps
Fixing leaks
Replacing any broken equipment
Replacing UV bulbs and units
Inspecting fish health (if needed) and advising on any issues we may have spotted
Testing water quality
Troubleshooting problems
General pond maintenance advice to improve your current pond's state
Our pond maintenance care plans can be carried out as one-off maintenance or can be set up as monthly visits to ensure your pond is in the best possible shape throughout the year. We don't tie you into any contracts, meaning you can cancel your pond maintenance at any time.
For more information on our pond maintenance services, contact us today for a free, no-obligation quote.
professional Pond Maintenance in Essex
We provide pond maintenance services for a variety of clients in Essex and London, and no job is too big or too small for our team. With our working knowledge of ponds and all the equipment needed, we can produce the best possible results for your pond and keep it in great condition.
Ready for a Well-Maintained, Healthier Pond?
Contact Essex Aquatics today to schedule your pond maintenance service in Essex.