With over 10 years of experience with ponds, our team are on hand to provide quick and effective pond repairs in Essex. We have dealt with various ponds and lakes and after a quick survey, we can name the problem and quote for remedial work. 
From identifying the source of any problems you experience to carrying out tried and tested repair methods, getting your pond back up and running is our priority. We will also advise why the problem could have occurred in the first place and install measures to stop it from happening again.
We guarantee all our pond repair work and if not suitably fixed we will come and rectify the problem as soon as possible.
At Essex Aquatics, we carry out pond repairs in Essex and London for public and commercial sectors. We also specialise in pond cleaning, pond maintenance and pond construction, supporting various sectors and landmarks.
Contact us today for a no-obligation quote and let's prioritise fixing your pond!
David Greest
1 October 2023
We booked Essex Aquatics to undertake the total renovation of our ponds which had a major leak. The project was made more difficult by the need to protect surrounding trees and shrubs and the removal and replacement of tons of slate rock. The final result was awesome. The ponds have never looked better. Excellent job Elliot and team.
Michail Sergentanis
20 September 2023
Elliot and team arrived promptly and did a great job cleaning out our fish pond. Highly recommended
Michael Helston
2 August 2023
I can thoroughly recommend Essex Aquatics. Elliot (and Cam and Matt) were responsive and polite and carried out the work with no fuss. Yes it was a mess but they cleared up everything. There were extra jobs thrown up by the pond construction which they carried out willingly and at no extra cost. I'm very happy with the pond and will certainly continue to contact Elliot when any maintenance is required. Thanks all round.
Elliott was very accessible. Answered my myriad of questions ,& provided me with quote to remove my pond ,& fill. A date was given to suit me ,& Elliott & colleague arrived promptly. Their work was expertly performed ,& went over ,& above by removing my back gate to enable barrow through. End result was better than I had hoped for. Clean tidy workers. My fishes have been re homed,& price was as quoted. Thoroughly recommend.
Elliot and team arrived promptly and did a great job cleaning out our fish pond. Highly recommended,
Goronwy Roberts
29 May 2023
Excellent work by Elliot to clean and clear our very overgrown and neglected garden pond.Delighted with the result and happy to recommend Essex Aquatics
Essex Aquatics got back to me very quickly with an extremely reasonable quote. In the short time between then and coming to do the job I had additional problems which were dealt with efficiently and at a reasonable cost. Very friendly and I have absolutely no hesitation in recommending them for pond maintenance.
Leaking Pond Repairs in Essex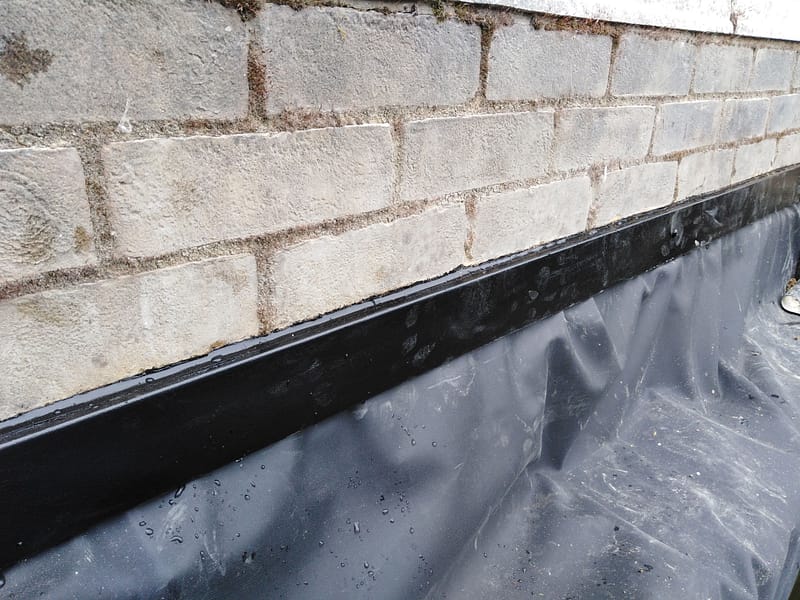 Garden ponds are prone to becoming leaking ponds. This is because, over time, ponds are prone to damage due to ageing, wear and tear, exposure to harsh weather, and interactions with local wildlife.
Unfortunately, leaking ponds are a natural thing that happens over time. Pond leaks can be down to a variety of reasons including, leaking pipes, liners with holes, concrete cracking, fibreglass splitting, poor workmanship, and seams wearing away just to name a few.
At Essex Aquatics, we are firestone and rubber lining approved contractors and are experienced in using rubber pond liners, pond paints, clay, clay liners, and fibreglassing, allowing us to resolve any leaking pond issues. 
We are also experienced hard landscapers so can lift up and relay any paving, coping stones, or brickwork leaving you with a stress-free solution.
"We had a leaking pond liner which had been installed around many varied sized rocks, some being considerably heavy and awkward shaped. It wasn't an easy task to remove all of these and to reconstruct the pond. We are over the moon with the end result. Elliot also designed a beautiful stream to replace a rather unattractive waterfall. The result is stunning. Everyone worked very hard in unseasonably warm weather and the team was a pleasure to have in our garden. Thank you, Elliot, we would be very happy to recommend you to anyone considering such a project."
– Gill Wood
Expert Pond Repair in Essex
Whether your pond has damage from wear and tear, extreme weather, or the local wildlife, Essex Aquatics is always on hand to get it back to its best condition. 
Contact us today for a free consultation and quote.