With over 10 years of expertise in managing ponds and lakes, our knowledgeable team offer effective vegetation management services in Essex for public and commercial clients. Plants and weeds are a healthy part of ecosystems for lakes and fisheries, but they need regular maintenance to prevent overgrowth, restricted access and harm to fish and other aquatic life. Our vegetation management services help to control and eliminate unwanted weeds, pests and overgrown vegetation.
After assessing your pond or lake, we provide a clear action plan and quote to quickly resolve vegetation issues in your pond or lake. We also specialise in pond cleaning and pond maintenance to prevent vegetation from becoming an issue.
Contact us today for a free consultation and quote to effectively manage your pond's vegetation.
Benefits of Vegetation Control
Helps maintain water quality and prevents blocked water flow leading to costly repairs.
Prevents rodents and pests that could be destructive to local ecosystems and the health of your fishery or lake.
Excessive vegetation can deplete oxygen levels which is harmful for aquatic livestock and plants.
Bankside Vegetation and Tree Management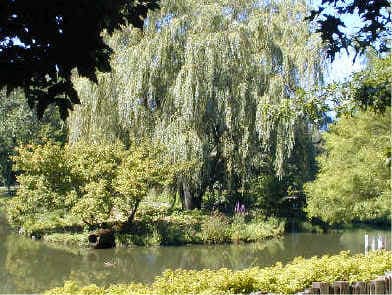 Our approach to bankside vegetation control ensures easy access to the bankside while protecting it from exposure that could harm aquatic life and cause erosion.
Trees around a bankside offer many benefits, such as cover:
Shade for wildlife

protection for wildlife

Energy Source

Keep river banks stable 
However, overly dense tree cover can have negative impacts, such as:
Reduced sunlight affecting plant growth
Altered water temperature
Decreased oxygen levels
We focus on managing trees correctly to maintain their advantages without causing negative impacts.
Our expert team use various methods to manage the vegetation in your pond, lake or fishery, including:
Cutting: Cutting involves the careful removal of unwanted vegetation, ensuring minimal disruption to the ecosystem. Our cutting process is tailored to each specific lake, targeting overgrowth while maintaining the natural balance of the aquatic environment.
Application of Herbicides: As part of our service, we offer the application of herbicides to control the growth of invasive plants using environmentally safe treatments. Our team is experienced in applying these herbicides, focusing on eliminating problem plants while still preserving the surrounding landscape.
Biological Control: Biological control is an eco-friendly solution that helps maintain the lake's ecological balance. We carefully pick and introduce these biological agents to ensure effective weed management without harming the lake's natural ecosystem.
David Greest
1 October 2023
We booked Essex Aquatics to undertake the total renovation of our ponds which had a major leak. The project was made more difficult by the need to protect surrounding trees and shrubs and the removal and replacement of tons of slate rock. The final result was awesome. The ponds have never looked better. Excellent job Elliot and team.
Michail Sergentanis
20 September 2023
Elliot and team arrived promptly and did a great job cleaning out our fish pond. Highly recommended
Michael Helston
2 August 2023
I can thoroughly recommend Essex Aquatics. Elliot (and Cam and Matt) were responsive and polite and carried out the work with no fuss. Yes it was a mess but they cleared up everything. There were extra jobs thrown up by the pond construction which they carried out willingly and at no extra cost. I'm very happy with the pond and will certainly continue to contact Elliot when any maintenance is required. Thanks all round.
Elliott was very accessible. Answered my myriad of questions ,& provided me with quote to remove my pond ,& fill. A date was given to suit me ,& Elliott & colleague arrived promptly. Their work was expertly performed ,& went over ,& above by removing my back gate to enable barrow through. End result was better than I had hoped for. Clean tidy workers. My fishes have been re homed,& price was as quoted. Thoroughly recommend.
Elliot and team arrived promptly and did a great job cleaning out our fish pond. Highly recommended,
Goronwy Roberts
29 May 2023
Excellent work by Elliot to clean and clear our very overgrown and neglected garden pond.Delighted with the result and happy to recommend Essex Aquatics
Essex Aquatics got back to me very quickly with an extremely reasonable quote. In the short time between then and coming to do the job I had additional problems which were dealt with efficiently and at a reasonable cost. Very friendly and I have absolutely no hesitation in recommending them for pond maintenance.
Professional VegetatioN management in Essex
Contact us for a free consultation and quote from our knowledgeable team to learn more about our vegetation management services.